Commercial Shopfitters Sydney, Australia
Arkade Interiors – The Best Shop Fitters In Sydney 
Looking for a quality shopfitting company? You've found us. At Arkade Interiors, we fully manage shop fittings for you in Australia.
Arkade Interiors are the best shopfitters in Sydney, Australia. We are a well-established organisation with over 40 years' experience in the building & shopfitting industry. We have a skilled team that takes immense pride in satisfying our clients. We have immense knowledge of the industry as well as the requisite skill level to do anything that you ask of us to the best possible level. Therefore, you can be sure that when you call us you would be getting the best in professionalism. We are fully committed to providing your work that justifies your faith and investment in us.
As one of the leading shop fitters in the region, our project management team oversees all aspects of fit-outs, that is why we can provide quality workmanship and reliable service that ensures project deadlines are met and delivered on time and budget.
Tailored and customised solutions
We would provide solutions that are customised and tailored to meet the needs and requirements of our clients. Our Experienced project management team works with you throughout the fit-out to assure that the project brief that you have provided to us is met. This attention to detail allows us to finish the work within the stipulated budget and deliver within the contractually agreed timeframe. We provide custom made shop fittings.
A feature, which makes us the leaders in commercial shopfitters in Australia, is that we have immense project management experience. To date we have worked with some of the top brands in the region such as the following:
McDonald's

Suncorp

Bupa

The Cancer Council

Gloria Jeans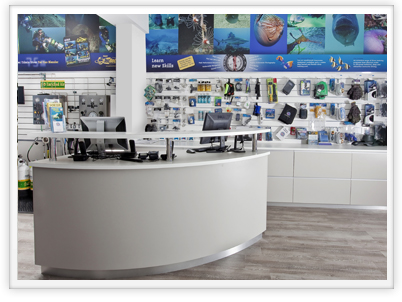 We are also capable of working for various kinds of establishments such as the following:
retail outlets

medical clinics

kiosks

cafes

reception areas
You can be sure that when you have us by your side, we would handle and closely monitor all stages of the work. This will start from the conceptualisation stage till the time we hand over the finished project to you.
Our team is fully capable of meeting all the requirements that you may have of the same.
Our services
As the leading commercial shop fitters, we can provide you with the following services:
retail shop fit-outs

joinery

offices and commercial fit-outs

kitchens and bathrooms fit-outs
We have worked in the hospitality sector at this time as well. 
Why should you hire us?
As you can see, we have a great working knowledge within Sydney and surrounding suburbs we can provide you with the kind of seamless experience that you would be looking for from an organisation such as us. 
It does not matter how big or voluminous your project is, our team of highly skilled commercial shopfitter in Sydney always provide quality workmanship at an affordable price. The same is also applicable to the scope of the project in question. We want to make sure that you have a great experience working with us. We know that the best way to do so would be to provide you with results that you would love. 
We have built a great reputation in our decades of existence on the back of our quality craftsmanship. We can deliver the kind of exceptional results that you expect and deserve.